The Lengths We Go To
7 lengths. Unlimited possibilities! Add instant volume to a shorter look, give lively layers to shake up a style, or go the distance with luxuriously long lengths that take glam to a whole new level.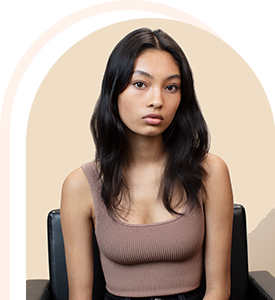 12 Inch Hair Extensions
Growing out short hair? Have fine hair that needs instant volume? This flirty, collarbone length delivers just the right amount of transformation.
13 Inch Hair Extensions
Insta-bangs today, no regrets tomorrow. This clip-on accessory allows every client to change her bangs like she changes her clothes.
14 Inch Hair Extensions
With these weft-only extensions, you can mix things up by adding easy-to-manage, mid back length, or create cool, chemical free color effects in just minutes.
16 Inch Hair Extensions
Mix things up by adding easy-to-manage, mid back length; or put your creativity to the test with creative new color effects.
17 Inch Hair Extensions
This 17" customizable clip-on accessory provides seamless coverage, volume, and color from the apex to the back of the crown.
18 Inch Hair Extensions
Create dramatic new looks and no damage color effects with these statement-making lower-back lengths.
20 Inch Hair Extensions
Longer hair is never beyond reach with our dramatic, lower back length extensions – perfect for totally transforming a look, or creating inspiring, dimensional color combos.
22 Inch Hair Extensions
Haste makes waist-length drama, with our ultimate length extensions. Dazzle with dimensional color effects or create or a new, long look – it's a quick, big-time transformation with ease. Available in weft only.
24 Inch Hair Extensions
Go the distance with the ultimate, luxe length – totally transformative extensions that offer a dramatic difference and major color possibilities.
26 Inch Hair Extensions
Infused with lavish length and the dazzle of blonde, this wearable luxury takes transformation to flowing new heights.
30 Inch Hair Extensions
Long, longer…and now, for the longest! Our most abundant option on the blonde scene indulges dreams of dramatic looks with length that goes the distance.